Attendance management has long been a complex and time-consuming task for organizations, involving manual record-keeping, inaccurate data, and administrative challenges. However, the corporate landscape in India has witnessed a transformative shift with the introduction of attendance management software. These software solutions have revolutionized the way organizations track and manage employee attendance, addressing the inherent problems faced in the past. 
It offers automated time tracking, real-time reporting, and integrated leave management systems, simplifying the entire process. In this blog, we will explore the top 10 attendance management software in India and evaluate their key features. 
What is Attendance Management Software?
Attendance management software is a specialized tool designed to streamline and automate the process of tracking employee attendance, leaves, and work hours within an organization. It eliminates the need for manual attendance records, timecards, and spreadsheets, offering a more accurate, efficient, and convenient solution.
With an attendance management app, organizations can digitally record employee attendance data, including clock-in and clock-out times, breaks, and overtime hours. The software often utilizes various technologies such as biometric systems (facial recognition, fingerprint scanning), RFID cards, or mobile apps for employees to mark their attendance.
Attendance management software also provides real-time reporting and analytics capabilities. Managers and HR professionals can generate reports on attendance patterns, late arrivals, absences, and other relevant metrics. These insights help in identifying trends, addressing attendance-related issues, and making data-driven decisions to optimize workforce management.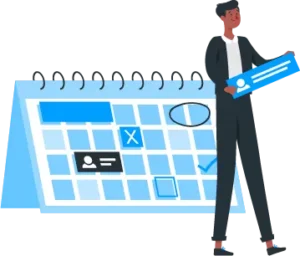 Advantages of Attendance Management Software
Some of the essential advantages of Attendance Management Software are:
Automation and Efficiency:

The

smart attendance system

helps in capturing the attendance data automatically, eliminating the need for manual data entry and reducing administrative tasks. This automation saves time, increases accuracy, and allows HR teams to focus on more strategic initiatives.

Accurate Attendance Tracking:

The

time tracking software

leverages technologies like biometrics to minimize the risk of buddy punching, time theft, and other fraudulent practices. This promotes fairness and transparency in attendance records, ensuring that employees are compensated accurately for their work hours.

Streamlined Leave Management:

Integrated leave management features in

attendance management software

simplify the process of requesting and managing leaves. Employees can submit leave requests electronically, and managers can review and approve them within the system. This streamlines the leave approval process, reduces paperwork, and provides a centralized view of employee leave balances and attendance records.

Real-time Reporting and Analytics:

It offers robust reporting and analytics capabilities. Managers and HR professionals can generate real-time reports on attendance data, absenteeism rates, late arrivals, and other key metrics. These insights enable data-driven decision-making, allowing organizations to identify attendance trends, address issues promptly, and optimize workforce planning and scheduling.

Mobile Accessibility:

Many

attendance management software solutions offer mobile apps or web-based interfaces, enabling employees to mark their attendance, request leaves, and view schedules using their smartphones or tablets. This mobile accessibility enhances convenience, especially for remote or field-based employees, facilitating easy access to attendance-related information anytime and anywhere.


Criteria for Selecting the Right Attendance Management Software
Before delving into the list, let's establish the criteria used to evaluate the attendance management software:
Features:

It should offer essential features like attendance tracking, leave management, real-time reporting, and integration capabilities.

Customization:

It should be able to customize the software according to the organization's requirements and goals.

Cost-Effectiveness:

It is crucial to compare and evaluate the cost-effectiveness of the software. This criterion considers factors such as pricing models, licensing fees, and any additional costs associated with implementation, training, or customization.

Scalability:

The software should be scalable to accommodate the organization's growth and evolving attendance management needs. It should be capable of handling a large number of employees and adapting to changing requirements without compromising performance.
Switch to SalaryBox for effortless employee management.
Top 10 Attendance Management Software in India
SalaryBox
SalaryBox stands out as the best time and attendance system in 2023. This robust staff management software offers comprehensive solutions for attendance, payroll, and leave management, making it highly sought-after in the market.
Trusted by numerous small and medium enterprises as well as startup companies, SalaryBox excels in streamlining and automating attendance management processes while seamlessly integrating with leave management software. This software enhances productivity and efficiency within organizations. Moreover, SalaryBox offers a range of customizable features to meet the unique requirements of each company, setting it apart from competitors.
Some of the key features that make SalaryBox as the best attendance app are:
Automated Attendance Tracking:

Salarybox automates attendance tracking using geofencing attendance and biometric systems.

Real-time Reporting and Analytics:

It helps in

generating insightful reports on attendance patterns and absenteeism rates.

Customization and Scalability:

It provides tailor-made solutions to meet your organization's demand, enabling scalability as the size of the organization grows. 

Dedicated Support:

They provide extensive customer support at each and every stage, from software setup to training and ongoing assistance.
The SalaryBox application can be accessed on Android, IOS, and desktop devices. To install the app, you can go to the Play Store or App Store and download the SalaryBox app.
2. Sum HR
SumHR is a smart attendance system that helps track accurate time for your workforce with a comprehensive time and attendance management system. 
This solution offers a web-based time clock, seamless biometric integrations, and a mobile attendance system, ensuring a worry-free experience for your employees. Empower your organization to achieve its business goals with a robust attendance solution.
Some of the key features of Sum HR are:
Enable employee time tracking from any device, anytime.

Simplify payroll and expenditure claims processes.

Gain insights into performance evaluation.
3. Keka HR
Keka is a unique attendance management and time tracking software in India that seamlessly integrates all aspects of time tracking, including capturing time from anywhere, scheduling shifts, and tracking over time. It fully integrates with payroll software, ensuring a streamlined and efficient attendance management system.
Some of the Key Features of Keka HR are:
Real-time integration with 200 biometric devices for seamless attendance tracking.

Flexible policies tailored for remote working employees.

Ability to track time using WiFi or IoT devices for enhanced convenience and accuracy.
4. GreytHR
Greythr is a staff management software that helps businesses track and manage employee attendance. The cloud-based software can be accessed from anywhere, making it easy for employees to clock in and out of work. 
Greythr also offers a variety of features to help businesses comply with labor laws, such as the ability to generate reports on employee hours worked and overtime.
Some of the key features of GreytHR are:
Real-time attendance tracking

Web-based attendance marking

IP-based access control
5. Kredily
Kredily is an attendance management software that simplifies tracking employee attendance and managing time and attendance data. It offers features like easy clock-in/out methods, customizable schedules, leave management, and detailed reports.
Kredily streamlines HR processes and improves efficiency with a user-friendly interface and comprehensive functionality.
Some of the key features of Kredily are:
Self-service portal for employees to access and manage their own information.

Attendance punching is available from any location for employees' convenience.

Real-time integration of custom attendance policies with payroll.
6.  ZOHO People
Zoho People is an attendance management app that offers flexible attendance tracking options, customizable policies, seamless integration with other Zoho applications, and insightful analytics. 
These unique features enable accurate attendance recording, tailored policies, streamlined HR processes, and data-driven decision-making.
Some of the key features of Zoho Features are:
Flexible attendance tracking options (biometric, web, mobile).

Automated notifications and reminders

Mobile accessibility for on-the-go access.
7. HR Mantra
HR Mantra is India's leading cloud attendance software, embraced by major companies. It offers a comprehensive suite of HRMS functions, including attendance, leave, payroll, and more.
With advanced features and an adaptive approach, HR Mantra simplifies attendance tracking and enhances workforce management.
Some of the key features of the HR Mantra are:
Built using Angular 7 technology for a modern and efficient user experience.

Auto-assign employees based on hierarchies like company, department, designation, and location.

Project management capabilities for better project organization and tracking.
8. HR One
HR One is an attendance management software that eliminates manual time updates and Excel spreadsheets. It seamlessly syncs with Core HR and payroll software, ensuring accurate and streamlined attendance data. 
With HR One, businesses can automate time tracking, improve accuracy, and simplify payroll processing. Compliance with labor laws is maintained, and comprehensive reports aid decision-making and workforce optimization.
Some of the key features of HR One are:
Employee Information System for managing employee data.

Creation and management of positions within the organization.

Assign recruiters to specific positions and evaluate candidates.
9. Zing HR
ZingHR, a long-standing HRM provider, offers a modern and all-encompassing HR solution. It is trusted by over 500 enterprises and utilized by over 500,000 employees. With a mobile-first and employee-centric approach, ZingHR assists startups and medium-sized organizations in aligning company strategy, facilitating team execution, and optimizing employee performance.
As an attendance management software, ZingHR provides efficient and streamlined attendance tracking capabilities, ensuring accurate time recording and simplifying workforce management.
Some of the key features are:
Mobile-first and employee-centric approach throughout the employee life cycle.

Employee self-service portal for easy access and management.

Comprehensive employee data management capabilities.
10. SecurTime
Securtime is a prevalent time management and workforce management software in India. It offers a range of services that enable enterprises to track their dispersed workforce in real-time effectively. 
Securtime utilizes various components, including biometric system sensors, a web application, and mobile apps, to provide comprehensive attendance management solutions. With its advanced features and user-friendly interface, Securtime helps organizations streamline attendance tracking and enhance workforce productivity.
Some of the key features of SecurTime are:
Regulates employer-employee interactions for improved efficiency.

Job costing, reports, and analytics for better insights.

Real-time tracking of on-premise, remote, and on-the-street staff.
Conclusion
Choosing the best time and attendance system is crucial for efficient workforce management. The top 10 options mentioned in this blog offer a range of features, customization, and integration capabilities to meet diverse business requirements.
When selecting software, consider your organization's needs, industry requirements, and budget. Evaluate features, pricing models, and customer reviews to make an informed decision. The right attendance management software streamlines processes, improves accuracy and enhances productivity.
By adopting the right software solution, you can ensure efficient attendance tracking, leave management, and payroll processes. For comprehensive attendance management software, consider exploring Salarybox, which has been voted by many small and medium-scale enterprises as the best Attendance app in 2023. It offers a user-friendly interface, automation, and real-time reporting.
Download the SalaryBox from Play Store and App Store, today!