Tracking the attendance and working hours of employees is important for every organization. Whether an employer uses traditional punch cards or biometrics, the main motive is getting accurate attendance. Employees' attendance is based on the clock-in and clock-out time, but sometimes they fill in the wrong timing of in or out in a hurry. It can be easily managed by attendance management software.
Without good staff management software, companies face issues when calculating the entire month's attendance before payday. Indeed, manual management increases the cases of inaccuracy, buddy punching, attendance theft, and many more management issues. Here, advanced attendance management software can help companies stay ahead by eliminating common problems.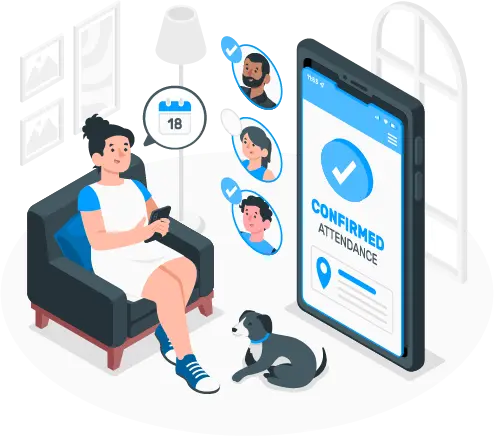 What is attendance management software?
Attendance management software helps companies to track working hours, in and out timings, breaks, and more. In addition, it allows companies to calculate the working hours, and with the centralized data, you can analyze whose performance is good. Other than this, it can also let you know about the punctuality of your employees.
Reasons for getting advanced attendance management software
Every company has to monitor the time their employees spend on specific tasks to provide the service at the right time. There are many reasons to get advanced attendance management software: 
Manual attendance management does not provide any transparency.

When you manually track attendance, there is no proof of any tweak in the attendance data. 

Anyone can easily overlook the confidential data of attendance.

Attendance management can lack approvals, data centralization, and more. 

You have to keep track of the changes in the laws related to employment. 

During the appraisal time, you have to spend extra hours analyzing the performance of each employee.

The information is not enough to take good business decisions.

You also face problems in scheduling shifts and roasters.

Switch to SalaryBox for effortless employee management.
The important features you should look 
Every attendance management system is built differently. Some software has unique features, and some have very common features, but you must choose the best when looking for a technical solution for all human resources needs. Since every company has unique requirements, they should never compromise.
1
. Online accessibility
Employee attendance software that tracks, collects, stores, and displays up-to-date timesheets, will help increase accuracy, ensure data integrity, improve employee productivity, reduce administrative work, lower admin costs, and enhance the efficiency of HR staff. 
An online attendance management system will eliminate missed punches and incorrect time entries and maintain an accurate record of attendance data with little to no supervision. The employer does not need to go through the timesheets for payroll processing. The online system provides entire attendance information on a single platform and saves time. 
2.
Auto data backup
Organizations can use attendance management software for the workforce that is working from different branches, even when each employee works in different time settings. When the company has various branches, they require an omnichannel and an online attendance management system that tracks the employee's in and out timings and automatically updates the data. 
An online time tracker software must allow companies to monitor and access data from anywhere at any time. Managers and HR staff could access the collected data at any time from anywhere. Also, cloud solutions are flexible, pocket-friendly, and free from software upgrade and installation hassles.
3.
Leave tracker
An advanced attendance management system must have another module that can manage leaves. When you manage staff, leave is an essential part of it. The salary is also calculated based on absences and presences. Whether an employee applies for sick leave or planned vacation, the requests must be easy to track, view and approve/reject at a glance. Improper time-off management practices and the use of manual tools to track vacations can result in insufficient staffing, employee dissatisfaction, productivity drop, delay in project deliverables, and even a spike in employee turnover. 
An automated attendance module will eliminate spreadsheets and emails from vacation management, integrate employee absence details with the organization's calendar and streamline workforce planning.
4.
Policy compliance and reports
Organizations can ensure policy and regulatory compliance without much effort by implementing an automated employee attendance management system. Employers must provide different types of leaves to match the policy compliances and allow breaks to maintain the work-life balance properly.
To prevent compliance disasters and keep up with changing compliance/policy norms, organizations need to streamline timesheets and time-off processes with automation. Good timesheet management solutions will let employers implement policy/regulation changes easily.

5
. Integration and reporting
An efficient attendance management software will integrate seamlessly with other HR management software like payroll, accounting, and more. The centralized software should easily connect with other systems so that the companies do not have to face any problems while transferring the data. 
This will save their time and improve data accuracy, prevent payroll errors, and ensure data confidentiality. With 360-degree HR tech, companies can fill the gaps between the different staff management processes with friendly integration. Any modification made on one interface will reflect in other apps in real-time without any human intervention.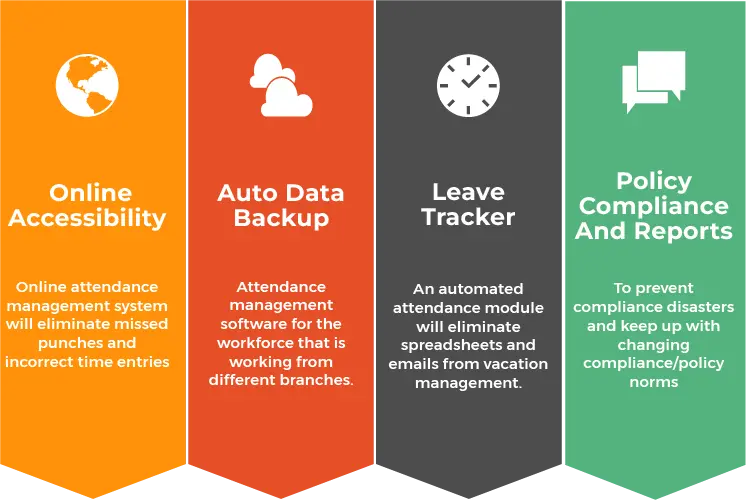 Benefits of a robust attendance management software
Whether you're a startup or an enterprise, the right software can greatly affect your company's time-tracking process.
Here are eight reasons why an ideal attendance management system can benefit your company. An attendance management system:
Can create tailor-made, visual-rich reports

Offer insights on employee time-off trends and shift patterns

Has an impact on the organization's performance

Ensures accuracy and consistency in attendance processing

Improves employee productivity considerably

Enforces organizational policies and regulations

Eliminate time-theft risks and manual errors
Conclusion:
A great attendance management software will give you 100% visibility of employee working hours, eliminate missed punches, and streamline attendance tracking. Features included in an attendance management system play a huge role in simplifying time and attendance tracking.
However, by using unified HR software to manage the attendance process, businesses can eliminate data redundancy, reduce manual errors, and save valuable employee time. It will improve employee productivity and track employee working hours while integrating seamlessly with other backend systems for data exchange.
Best of all, the staff management software allows app admins to customize the attendance management module to fit an organization's unique business requirements. Automated alerts and insightful reports will keep managers and employees informed of bottlenecks in the process.