Managing and creating an optimal employee roster is no easy task. You may need to schedule batches for different timings, swap and reschedule employees on sick leave, approve time off requests, keep track on a spreadsheet, and most importantly, ensure the timely dispersal of salary, all at the same time. And with all the other significant responsibilities to drive business, you would not want to spend hours of your daily schedule on these mundane yet essential tasks. Tools like Roster management software have played a significant role in the organization solving this critical issue. With the help of this powerful software, scheduling your roster plan has become a breeze, as they provide access to the tools that keep your business organized, efficient, and hassle-free.
As per PwC HR Tech Survey 2022, "Around 44% of the HR manager have shown interest in using employee management software to increase productivity, while 35% believe that it could reduce costs."
But with so many tools in the market, how could you know which roster management system best suits your business? Don't worry; we have got you covered. This blog lists your business's top 10 Roster management tools, including their key features. So, let's dive in!
What is Roster Management Software?
Before we delve into the top Online Roster Management System list, let's first understand this software.
Roster Management Software is an employee management tool that helps digitally schedule a staff roster plan from a single platform. Since these tools are incredibly efficient in streamlining and automating the rostering process, they can save your precious time and money for more productive activities in building your business, which was otherwise spent on manually managing employee schedules.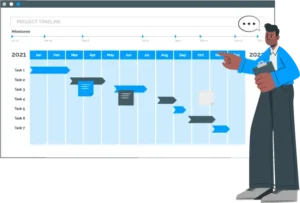 Criteria to Select the Best Roster Management Software
Before you select the rostering tool for your business, consider the following criteria for making the right choice:
Easy-to-use user interface.

Smooth and easy integration with existing software.

Accessibility for all devices, including Android, IOS, and desktop.

Features for centralized communication between employer and employees.

Top 10 Roster Management Software [2023]
1. SalaryBox
The software that tops our list is SalaryBox. This comprehensive employee management software provides a one-stop solution for all attendance, payroll, and leave management issues. SalaryBox has been loved by many MSMEs companies and startups for streamlining and automating their roster plan and boosting productivity and growth to their business.
Switch to SalaryBox for effortless employee management.
Its features make it unique and stand out from the competition. A few key features include
Location-Based Attendance.

Roster Management

Employee's Live Tracking.

Customized User interface

Payroll Report generation.

Staff directory.

Automate Late Coming & Early Leaving Fine

Automate Overtime Pay

Strong Customer Support
It is available for all devices, including Android, IOS, and desktops. It provides free access for all users up to 4 employees. Download the SalaryBox app now!
2. Connecteam
Connecteam is an employee roster software that provides easy-to-access tools to create and manage roster plans for your team. They are known for providing excellent customer service and customized user experience.
Some of the essential features include:
Automated rostering

Drag & drop option

Overtime notifications

Customizable templates

In app-chat

Recurring shifts

Shift notes & attachments
3. Sling
Sling is a cloud-based roster management software for multi-nation corporations and big companies. Sling's software capabilities enable employers to add any number of employees, managers, or locations, which makes it perfect for more extensive and multi-location teams.
It has a centralized dashboard through which managers can easily create team schedules and arrange their shifts remotely. Plus, it offers a smooth communication channel between the managers and employees in their app for real-time updates.
Some of the key features are:
Communication Channel for team messaging

Staff data reports

Schedule management

Schedule templates
4. Shiftboard
Shiftboard is a roster management application that caters to organizations with complex scheduling needs. It is especially suited for mission-critical industries or high-volume staffing. One of the most significant advantages of Shiftboard is its ability to use AI to create roster plans and allows organizations to customize their schedules per their requirements. It also ensures compliance with the laws and regulations to provide a safe and efficient work environment.
Some of the crucial features are:
Department and Location-based Roster plan

Easy customization tools for scheduling shifts

Flex pools for the last-minute changes

Smooth communication platform
5. Homebase
Homebase is a cloud-based roster management software that offers scheduling, time tracking, team communication, and hiring tools for businesses of all sizes. It is designed to help managers streamline their workforce operations and ensure their team is working efficiently. This software benefits companies that employ teams hourly, such as restaurants, retail, and professional service providers.
Some of the key features include:
Drag and drop shifts

Overtime alerts

Automated scheduling

Labor cost tracking and optimization
6. Monday.com
Monday.com is excellent for creating simple weekly schedules and offers intuitive customization options. Their system includes 200+ templates; data can be visualized in multiple formats. It's a low-cost solution with automation features to notify staff of new schedules. One crucial feature includes sharing the schedule in "read-only" mode so that no alteration is made to the original document.
Some of the essential features include:
Customizable Templates

Team Collaboration Tools

Email Automation

Data Insights
7. Buddy Punch
Buddy Punch is a time-tracking and scheduling software that helps managers monitor employee schedules and productivity. It offers a Time Clock Locations feature, allowing employees to select and reflect their work location in their time cards. The software provides reports on specific or multiple locations for workload assessment. It's ideal for managing remote teams in different locations and time zones.
Some of the key features include:
Allowing field workers to view their schedule on mobile devices

Assigned Specific IP addresses

Punch-limiting feature to punch in or out during designated time only
8. Workforce
The workforce is a roster management software designed to create flexible shifts for smooth workflow management. It has unique features like demand forecasting to prepare staffing for promotional events and spikes in the seasonal period. With a Workforce scheduling application, you can automatically identify qualified staff for an unexpected vacant shift with a click of a button.
It allows organizations to schedule their staff based on their qualifications, performances, and preferences. And it can also create templates for recurring schedules to save time. 
Some of the key features are:
Future trend demand forecasting

In-depth analytics and relevant insights
9. 7shifts
7shifts is a cloud-based roster management system designed for restaurants. It simplifies staff management through a single platform where managers can manage availability, rosters, timesheets, and employee communication. The app automatically notifies employees of upcoming shifts and allows shift swapping with management approval. Paid plans offer labor budgeting tools for tracking labor costs across different restaurant sections.
Some of the key features include
Intuitive drag-and-drop roster and templates

Approve or deny requests for leaves or shift swaps

Immediate notifications for overtime problems

Calculate staff spending instantly
10. Deputy
The Deputy is a popular roster management system that helps managers efficiently utilize their staff, track attendance, and comply with labor laws. It allows employees to use a centralized dashboard to view their roster, switch shifts, and receive immediate messaging. The dashboard can be customized to match the business's branding. Deputy provides 24/7 support and flexible pricing plans for scheduling, time, and attendance apps.
Some of the key features include:
Share the roster via desktop or mobile.

Smooth filling of roster based on employee availability, training, and cost.

Immediately find qualified replacements for shifts.

Manage expenses based on data regarding sales and wages.



Conclusion
Roster management software has been critical in managing and creating employee roster plans. It helps streamline and automate the rostering process, saving precious time and money for more productive activities in building your business, which was otherwise spent manually creating and managing employee schedules.
We have listed the top 10 Roster management systems in the market to help you choose the best software which suits your organization. Every software has unique qualities and features that cater to its specific market. SalaryBox is the most recommended software that includes various features and helps manage and easily create roster plans.
Download the SalaryBox from Play Store and App Store!